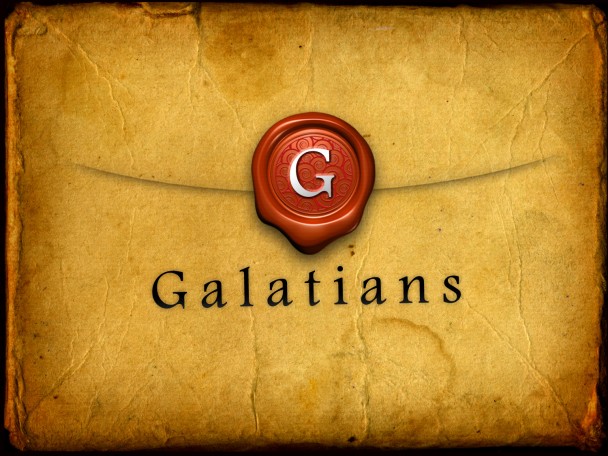 Download or stream the audio with the link below.
Sermon Audio
Summary
Galatians is considered one of the most important letters of all of Paul's letters. While each letter (or book) is significant and essential for the complete revelation of God, not each book is equal in weightiness. We know this from talking to our missionaries who translate scripture. Some books have more essential elements to them than others.  For example, I Corinthians is not primarily dealing with a theological or doctrinal error (although that is a large part of it!).  But it deals more with the health of the church and how the church should be run.  In Galatians, the very heart of the gospel is at stake. If the Galatian church had gotten the gospel wrong, it would have gotten everything else wrong.  The gospel is the burning center of the Christian message from which everything else flows.
There are various theories on when exactly this book was written depending on whether or not it was being sent to North or South Galatia. But regardless of this, the letter was likely written between 50-57 AD.  We know from Acts 16:6 and 18:22 that Paul had been to Galatia. Paul was somewhat of an itinerant preacher who traveled allot and visited various churches throughout the Roman Empire.
Galatians is a situational epistle. In other words, it is an epistle written to a specific audience (in this case a church) that had legitimate problems that needed to be addressed.  Some Biblical "scholars" have taken the situatedness of the Bible to an extreme and have turned it into little more than a history book that stimulates conjecture and speculation.
But the situatedness of the Bible does not take away from its applicability. As one author put it, "love songs are written to a person at a certain point in time yet love songs are enjoyed by the world."  So the fact that Galatians is situated in time does not limit its meaning for us or somehow take away from its immediacy or importance. In fact, in many ways, the Bible's historicity or situatedness adds to its immediacy because it is based on history and actual events, not a pie in the sky theology.
In fact, in many ways the Bible is a situational book. And that, in my opinion, is a good thing.  Compare the Bible with the Koran.  The Bible consists of 66 books written by about 40 authors over a period of around 1500 years. The Koran was written by one man Mohammend over a period of about 23 years.  The book of Mormon was "discovered" by one man Joseph Smith.  It is true that both of these religions use some parts of the Bible, but the essence of their religion or revelation is these two books, (Koran and Book of Mormon), written or "discovered" in total isolation.  In contrast there are more than 24,000 partial and complete manuscript copies of the New Testament, at least 5,600 of which are copies and fragments in the original Greek
There is no comparison when looking at the manuscript reliability of the Bible.
1)   Julius Caesar's The Gallic Wars (10 manuscripts remain, with the earliest one dating to 1,000 years after the original autograph);
2)    Pliny the Younger's Natural History (7 manuscripts; 750 years elapsed);
3)    Herodotus' History (8 manuscripts; 1,350 years elapsed);
4)   Plato (7 manuscripts; 1,300 years);
5)   There are no surviving manuscripts of any of William Shakespeare's 37 plays (written in the 1600's), and scholars have been forced to fill some gaps in his works.
Renowned Bible scholar F.F. Bruce declares:
"There is no body of ancient literature in the world which enjoys such a wealth of good textual attestation as the New Testament."
You may have heard the adage, "the Bible didn't fall from the sky." And that is exactly true.   The Bible was written in the context of real life actually happening within the writing of the Old and New Testaments.  Moses is writing his books while slogging it out in the wilderness, grumpy, tired, ready for God to strike him dead. David writes his Psalms within political and spiritual turmoil.  Luke, the famous historian is actually getting eyewitness accounts of Jesus' life and ministry as he writes his Gospel and the book of Acts.
So these are not isolated revelations. These are historical events that happened at a time and place.
III. The challenge for us today is to take a situational book, understand what it meant originally and then apply that to what it means for us.  In other words, we don't read the Bible as though, in every verse Paul is addressing "me" personally. That would be to misinterpret the meaning of the passage. To simply read the Bible and try to "apply it to my life" without understanding its original meaning, is to ignore the author's intention.
When you read a book, you are doing your best to understand what the author is saying. You would not open a book at a random page, read a quote and say "Ah, that is what the author is saying to me."  No, you don't know who that author is talking to.  That could be a conversation between two people. That could be what the author is saying to Him or herself.  Or that could be a sarcastic statement, spoken tongue in cheek.
So, being a good student of the Bible is seeking to honor the original writer by trying to understand what he meant when he wrote it. They call this "authorial intent" or "original meaning."
IV. But this is only one side to the story. Did you know that non-believers could interpret scripture accurately (to a point)?  What I mean is that someone who is astute at reading books and interpreting meaning could probably come to some accurate conclusions about what the Bible means.  And some people do this. In fact there is a Bible study for Atheists online. The point is the Bible is studied and interpreted by millions of people every day and not all of them are Christians.
(The book of Ruth is commonly regarded as a great piece of literature by seculars and Christians alike).
Many non-believers could read Paul and tell me what he meant when he wrote it. John 3:16 makes sense to a point. But that means nothing in terms of truly knowing the God of the Bible and having the Spirit illuminate the text to understand its spiritual meaning as it relates to us.
So, hear me on this: Just understanding the context or the original intention of the author to the original audience is not enough. While I want this church to be good students of God's word, I do not want study to replace knowing and worshipping God. It is only a starting point. To truly know and understand the scriptures , we need to know God and more specifically we need to have God, "His Spirit", in us to show us the meaning of His word.
Look at I Corinthians 2:10-11
10 "These things God has revealed to us through the Spirit.
For the Spirit searches everything, even the depths of God.
11 For who knows a person's thoughts except the spirit of that person,
which is in him? So also no one comprehends the thoughts of God
except the Spirit of God.
12 Now we have received not the spirit of the world, but the Spirit who is from God, that we might understand the things freely given us by God. 13 And we impart this in words not taught by human wisdom but taught by the Spirit, interpreting spiritual truths to those who are spiritual.
14 The natural person does not accept the things of the Spirit of God, for they are folly to him, and he is not able to understand them because they are spiritually discerned.
So there you have it. While non-believers can come to conclusions on the Bible, only believers who have been given the Spirit of God can truly understand it and interpret it, spiritually.  It is a spiritual book.  It cannot be read like any other book in the world. It is not a self-help book. It is not a moral guide for your life. It is not something that we place under our scrutiny or stand over. It is rather something that scrutinizes us. It is something that stands over us – Something that we get under and submit to.
V. And know this: all the world is under this book.  The truths in this book apply to all people. All people are either under the wrath of God or under his mercy. All people are either sons and daughters of Adam or sons and daughters of Christ.  Christ is Lord of all. "Every knee shall bow and every tongue confess that Jesus is Lord, to the glory of the Father.  All we like sheep have gone astray; we have turned every one to his own way.  There is none righteous. No not one."
These are universal truths all across culture, across time and space, across family generations, from daughter to mother, from mother to son, from husband to wife, grandchild to grandfather, and from this pulpit to that chair."  Oh how many people have fallen because of the failure to apply the Bible to their own existence. How many preachers and pastors fall because of a lofty view of themselves that fails to recognize their own existence as under the authority of scriptures and saved by grace. How many husbands have failed to love their wives because of their arrogance and pride in thinking of themselves more highly than they ought to?  And how many fathers have abused their children because of their own unwillingness to receive God as their Father and to become an obedient son.
All the world is under the same fate. Life or death, heaven or hell. Wrath or mercy.  All people will be separated at eternity. Some will go to eternal hell, some to eternal heaven. All of us live under the teaching and instruction of this book, whether we acknowledge it or not.  When Paul writes this letter "to the churches of Galatia," the whole world is under the same sentence. It is a letter that embodies the whole of life, just the churches in Galatia. God is a global God and his message applies to all people. Where do I get this? I get this in Philippians 2:10 "So that at the name of Jesus every knee should bow, in heaven and earth and every tongue that Jesus Christ is Lord to the glory of God the Father."
Have you ever thought of this in terms of witnessing? When you witness to someone, you are really not presenting yourself as any different than they are.  You are exactly the same as them! That is the point of the gospel! We are saved by grace through faith, not a result of works so that no one may boast.  When you witness, you are not saying, "Look what I did. You should do the same."  Instead you are saying, "You and I are sinners. God says that sinners will be punished.   Jesus offers to be the substitute for our sins so that God punishes him instead of us. I have united myself with Christ, I no longer live therefore I will no longer die in my sins. The wages of sin is death but the gift of God is eternal life."  Would you join me in receiving this great gift? Would you seek to escape the wrath of God and be hidden in Christ and his righteousness?"
This is exactly what Paul is doing in Athens in Acts 17:22-
One person describes witnessing as a beggar telling another beggar where to find bread.
Well this sounds so easy right? Then why don't we open our mouths more often to non-believers? It is because we do not see ourselves as beggars.
So what do we need? We need to get saved again. Before you throw me out as a heretic, let me explain myself.
Salvation is a one-time event but it is also an ongoing activity. We are being saved continually.  Salvation according to Romans 8 is like links in a chain.
"For those whom he foreknew he also predestined to be conformed to the image of his Son, in order that he might be the firstborn among many brothers. 30 And those whom he predestined he also called, and those whom he called he also justified, and those whom he justified he also glorified."
Somewhere between justification and glorification, lies sanctification or being made like Christ. That is what is happening right now, we have not arrived at that last link in the chain…..
So, we are situated in time and space. We are like the church in Galatia. We need a gospel message every day, every week, from this pulpit and in our own homes through reading the scriptures.  May we prepare ourselves for the message that God has for us. Please join me. Please dive in with me into God's Word. It is a lamp to our feet and a light to our path.
Now we as a church have both an advantage and a challenge. We have 2000 years of history behind us wherein many key doctrines were hashed out in councils and creeds. That is a good thing. We stand on the shoulders of many great men who have given their lives to get the gospel right.
At the same time, we have traditions that are not necessarily biblical. We have extra-biblical ways of thinking and doing church that have been developed by human beings like you and me. Not all of these are bad. But I think its safe to assume that not every tradition or way of thinking and doing church is rooted in the Bible. That is why every Church needs to critically examine what they do and why they do it.  If a church sets off to sea with wrong coordinates, the final destination will not be reached. Our goal is to stay in line with this book, to constantly check our coordinates, to make sure that we are in line with the course Jesus set out for His church.
Let's pray that that happens.
---