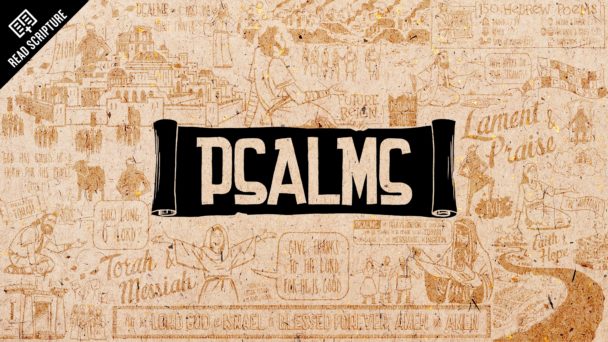 Download or stream the audio with the link below.
Sermon Audio
Summary
A royal Psalm
Psalm 2 is a royal psalm. It is about a King, a great King. It is about a King above every King. Living in America today, the idea of a King is a bit foreign. We have a President and branches of government, balances of power. A King in the Ancient world ruled a nation independently.   He made decrees and whatever he decreed became law, the standard by which the citizens were to live.
The good King
Kings would come and go in Israel. Not very many of them were good Kings. But this Psalm introduces a coming King Who would be good because this coming King would be God Himself. And this King would bring about the obedience of the nations, including Israel and the salvation of people to the ends of the earth. But there would be some work to do to bring this salvation to the world. And this Psalm will point to just how much work it would take.
Breaking it down
Psalm 2 can be broken down like this: 1) The rebellion of the Nations (1-3), God's response and rule in heaven (4-6), God's decree (7-9) and the reigning of the Messiah on the earth and the invitation to be ruled b y Him (10-12). So let's begin with the first part: the rebellion of the nations. The psalmists asks, "Why do the nations rage and the peoples plot in vain?" This is a rhetorical question that points to a sense of befuddlement. The Psalmist is shocked at the rebellion of the nations opposing God. Another way to say it would be, "what are they thinking? Or what are they trying to accomplish? Why go through the trouble?" He is not afraid of the nations' rebellion. He is perplexed by it.
Visceral response
The nations surrounding Israel had a visceral, emotional response to the rule of God. They didn't like it. So "the Kings of the earth set themselves and the rulers took counsel together, against the Lord and against his Anointed saying, "let us burst their bonds apart and cast away their cords from us." This is a coalition against the Lord and his Anointed, both current king and future Jesus. The nations here represent humanity. All people are subject to the Lord of creation. All people are beneath His rule and reign. Some embrace it and love it. Many rebel against it.
Freedom in God
That is what the surrounding nations are doing. They think of the rule of the Lord as a kind of imprisoning. They want to break the bonds apart and cast the cords off them. They want freedom from God not knowing that freedom is only found in God. The people of Israel also did this. In Exodus 34, they are waiting for Moses to come down from the mountain and they tire of waiting. They cast off restraint and form a fake god to worship. "These are your gods, O Israel, who brought you up out of the land of Egypt!" They trade good ruling and governing for self-governing that diminishes their leader to a golden calf.
Frustrated Kings
You get a picture here in Psalm 2 of frustrated kings and rulers resisting the rule of the Lord and fighting tooth and nail to get out from under it, to no avail. To fight God is to lose. Pharaoh, the king of Egypt fought God and lost, very badly. Even the apostle Paul kicked against the goads in Acts 26. In other words, he resisted for a time the work of Christ in His own heart and eventually he stopped fighting and surrendered (the blindness helped him in the process). The religious leaders who persecuted Christians made a pact that they wouldn't eat until Paul was dead. They lost that wager.
Gamiliel
A Pharisee named Gamiliel in Acts 5, warned the leaders that if the plans of the apostles were of man, it will fail but if it is of God, you will not to be able to stop them. In other words, what's the point? Why rage against them? You will not be able to stop them so why try? People having been fighting God for a long time and no one has ever won. He has a perfect score. Why try now?
Bringing it home
Now, this is talking about nations and kings and rulers; but we need to be included in the discussion as well. Because we are people, too. In what ways do we fight God? In what ways do we kick against the goads, resist His good rule? I think we fight God when we hold anything in our life with a closed fist instead of an open hand. We fight God when we resist His rule over every part of our life.
Not worth it
That fight is not worth the effort for 2 reasons. Because we will (thankfully and mercifully) not win. God will overcome the hardest, most staunch rebellion. And second it's not worth the effort because God is good and knows what's best for us. To fight God is to fight that which will bring about the best good in our life. And so why rage? Why plot to get God out of your life? He is the essence of life. All that is good and true comes from Him.
How the Lord responds
So how will the Lord respond to this rebellion of the nations? He will continue to rule in the heavens (4-6). "He Who sits in the heavens laughs; the Lord holds them in derision……" Let's look at the first part. He sits in the heavens, He watches and sees from above. Maybe you have heard about Elon Musk's Tesla roadster (electric car) being sent into space. The idea was to get this car to orbit around Mars with a manikin driving it and David Bowie's space oddity on a continual loop. That is a quite impressive and fascinating feat. Here in Psalm 2, God is seen as sitting in the heavens. No oxygen needed, no space ship necessary, presumably His own band playing. God exists in an other worldly realm and yet He rules and reigns over the earth. He sits in the heavens. And He laughs.
To laugh
At first this may sound a bit severe or even condescending. Does God really laugh at the rebellion of the nations? To laugh here is not a belly laugh or a wicked life. It is rather God's response to the folly of human pride. It is laughable. Psalms 37:12 says the same thing, "….but the Lord laughs at the wicked, for he sees that his day is coming." And Proverbs 21:1, "The king's heart is a stream of water in the hand of the Lord; he turns it wherever he will."
God always has His way
So God is in total control and man's biggest show of muscles is just not that impressive. God has always had his way in the world even when wicked rulers have been reigning. King Nebuchadnezzar one day looks out at his kingdom and says, "Is not this great Babylon, which I have built by my mighty power as a royal residence and for the glory of my majesty?" And God responds. He caused King Nebuchadnezzar to eat grass like an ox until his hair grew as long as eagle's feathers and his nails became like bird claws. This was actually a great mercy that saved Nebuchadnezzar's life. So He was very fortunate. His pride would have killed him.
Babel
Something very similar happens at the tower of Babel. The people have gathered together with an eye toward overthrowing the Lord and His rule. They are seeking lordship, absolute power. And if this continued, the people would have torn themselves apart. So God mercifully confuses the language. Now, human pride is spread out instead of consolidated. Babel was also sign of mercy.
Plans that fall apart
And when we have plans, projects, agendas that fall apart, it may be a sign of great mercy. God is in the heavens and he does all that He pleases. And for God's people this means that he will scatter, disseminate and even disrupt our fool-proof plans because the plans may be foolish. God knows the end from the beginning. That is why we commit our plans to Him.
Laughter turned to wrath
God will at times choose to be merciful in the face of human pride and other times He will laugh and that laughter will turn to wrath. "Then He will speak to them in his wrath and terrify them in his fury saying, 'As for me, I have set my king on Zion my Holy hill'." God has a plan for dealing with the rebellion of the nations. He will not go to war with the nations. He will install a King to bring order and peace to the earth. And that leads to verses 7-9, the decree of the Lord. "I will tell of the decree, 'You are my Son; today I have begotten you'."
Chaos and what to do about it
Before we walk the through the coming of the Anointed King Who I believe is the Christ, let's just consider something. When you look at the rebellion, chaos, volatility in our own life and in the world at large, what do you think would help? Maybe you got some issues in your life that you are dealing with and you got some plans in place to make it better. And these may not be bad things like: getting better habits, eating healthier, reading the Scriptures more, thinking more positively and so on.
Bringing in a Person
Here, the Lord is going to address the rebellion and chaos of the world by bringing into the world a Person, a Son. And this is incredible because life change happens when people are introduced to the Person of the Lord Jesus Christ. He changes us. He makes us like Him. He is installed as King of us. And that is the beginning and completion of all change. God changes the world by putting forward a Savior of the world.
A greater Son
This Son will be far superior to any other kings of the earth, superior to the angels and superior to the greatest human king of Israel, King David himself. David was a king after God's own heart. This King would be God in the flesh. That is what the covenant states. There was to be a Father/son relationship between the Lord and the King of Israel.
II Samuel 7:13-16, "He shall build a house for my name, and I will establish the throne of his kingdom forever. 14 I will be to him a father, and he shall be to me a son. When he commits iniquity, I will discipline him with the rod of men, with the stripes of the sons of men, 15 but my steadfast love will not depart from him, as I took it from Saul, whom I put away from before you. 16 And your house and your kingdom shall be made sure forever before me. Your throne shall be established forever.'" This points to the kingship in Israel on 2 levels: Earthly kings who come and go and an eternal King Who will come and never go.
New Testament take
The New Testament writers will pick up on this in several places Acts 13:33, "…..this (good news) he has fulfilled to us their children by raising Jesus, as also it is written in the second Psalm, "You are my Son,  today I have begotten you'." And the writer of Hebrews in 1:5, "For to which of the angels did God ever say, "You are my Son, today I have begotten you"? Or again, "I will be to him a father, and he shall be to me a son"? And at Jesus' baptism, the sky opens up and John hears the words, "This is my Son with Whom I am well pleased." Jesus comes from the line of Judah from whose line the scepter would not depart. All earthly kings will ultimately fail and diminish. The Son will come and reign forever.
How you think of Him?
Do you think of the Lord Jesus as the Greatest, most Important, Prominent Person in your life, the Supreme, Superior One? That is Who Jesus is. There is this Person Who knew you before anyone else knew you. This Person set His love on you before the foundations of the earth. He knew you before anyone else said, "hi there." That is the idea here. Whatever relationships we have on earth cannot be compared to the relationship we have with Christ. In the same way that Kings came and went in Israel, people will come and go in our life but Christ will never leave us.
Ask of me
This King will be legitimate King, not a king by default or through arm-twisting or military conquest. He will not need to fight to acquire the nations. All He needs to do is ask: "ask of me, and I will make the nations your heritage, and the ends of the earth your possession." This King will not struggle for power and influence like many other kings. He will be given it.
Some perspective
This brings a bit of perspective on Jesus' temptation in the wilderness. The devil comes to Jesus with an offer to give him power over the nations. He is saying to Jesus, "ask of me and I will give you the nations. Worship me and this will be yours." And you wonder if perhaps Jesus was thinking of this decree given by His Father long before. Satan offers Jesus what Jesus already had from the Father. And yet in that moment, Jesus did not exercise His control of the nations. He subjected Himself to His Father's will. And that meant humbling before exalting, serving before reigning, dying before ruling. So Satan comes to expedite the process. And Jesus says no.
Jesus knew
Jesus saw Satan fall from heaven like a star. Jesus knew that that Satan was there at his birth seeking to kill Him. (See Revelation 12:5.) He knew better than to receive something from the one who is seeking to steal, kill and destroy.
Gift and Giver
So let's bring this home a bit. You want something that you think would be good, perhaps even something that you are convinced that God wants you to have. There is nothing wrong with the thing. And you keep telling yourself that. But the timing is off. The thing is eclipsing your view of the Christ. It feels off-center, unsettling and unstable. What do you do? Here is what I think Psalm 2:8 and Matthew 4 teach us. God's gifts are never a right. They are gift. They are given not grabbed at. This includes the air we breathe.
Him only shall you serve
So if the thing that you think God wants you to have is also the thing that unsettles you, conflicts with your prayer life (or is never offered to God in prayer) than there is a chance that you are grabbing instead of receiving. The best thing to do is what Jesus did. To state the Holy Scriptures to your own heart, "You shall worship the Lord your God and him only shall you serve.'" Allot of questions are answered when we ask the Lord to lead us as we serve Him and love Him. The servant is not above His Master and that is a really god thing.
Breaking and dashing
This Son will bring salvation to the ends of the earth and this Son "shall break them (the rulers and kings) with a rod of iron and dash them in pieces like a potter's vessel." Wow. This is not the picture that we get when reading the gospels. Jesus is meek and lowly. He rides a donkey. He cooks fish. He dies on a cross. Where does this "new" picture of Jesus come from? Well, Jesus is not to be thought of as one-dimensional because He is not. When He returns, He will no longer receive the 40 lashes minus one or have his beard ripped off of His face. He will return in power and authority.
The Lamb and Lion
Revelation 19:15-16 shows a different yet not less real side of Jesus, "From his mouth comes a sharp sword with which to strike down the nations, and he will rule them with a rod of iron. He will tread the winepress of the fury of the wrath of God the Almighty. 16 On his robe and on his thigh he has a name written, King of kings and Lord of lords." And I Corinthians 15:24-27 gets at the same thing, "Then comes the end, when he delivers the kingdom to God the Father after destroying every rule and every authority and power. 25 For he must reign until he has put all his enemies under his feet. 26 The last enemy to be destroyed is death. 27 For "God has put all things in subjection under his feet." So the King, the Son is both Lamb and Lion. He is Savior and Lord of all.
An invitation to submit
And that leads to the last section of the psalm: an invitation to submit to the King's rule. "Now therefore, O kings, be wise; be warned, O rulers of the earth." So here is the contrast, instead of being foolish and plotting in vain, be wise. Be warned. "Serve the Lord with fear and trembling." Do not fight Him. Be found in Him. As Derek Kidner says, "There is no refuge from Him: only in Him." "Kiss the Son (or pay homage to the Son,) lest he be angry, and you perish in the way, for his wrath is quickly kindled."
The blessed
So we have rebellion, God's response, the coming of the King and now an invitation to embrace His kingship. Blessed are all who take refuge in Him. This really brings us back to the beginning of Psalm 1. The blessed person who experiences the blessed life is the one who takes refuge in God. This is as Kidner says, "grace breaking through" the psalm. Yes, wrath is coming but not right now. So serve the Lord right now, rejoice with trembling right now. "Whoever believes in the Son has eternal life;" Receive that eternal life. "Whoever does not obey the Son shall not see life, but the wrath of God remains on him." – John 3:36.
Take-aways
Let's close with a few take-ways: 1) Know the right battles to fight and fight with all your might.   Some things or people not to fight would be Almighty God, your family, your friends and neighbors and co-workers. Resist the lure to fight people. Instead fight arguments and ideas that oppose the rule and reign of Christ. Fight the things in your life that would bring trouble instead of blessing. Resist the kind of thinking that puts God in your right or in your control. And instead fight the good fight of faith believing in His goodness and faithfulness to you.
Remember the Cross
Take-away number 2: Remember the cross where something beautiful came from something very ugly. The cross epitomizes all that is wrong with the world. God comes to save us and He is killed for it. At the cross, humanity reveals its ugly pride and God reveals His astonishing grace. This is still happening today. God is making us new. This means that His concern is not what we were but what we are becoming through Him. Remember the basics of the gospel message. God restores what is broken and brings beauty from the ashes. What is meant for evil, God uses for good.
He knows the end from the beginning
Take-away number 3. God declares the end from the beginning, so then, trust Him with your future. God's relationship with His people is everlasting. It has no end. He was patient in leading His people for 40 years in a wilderness. And He was faithful to lead His people through exile and dispersion and 400 years of silence and 2,000 years of church history. He has all things in His control including us. Let's trust our great King together. Please pray with me.
---