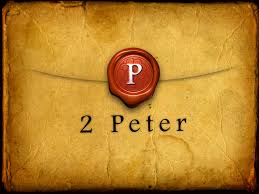 Download or stream the audio with the link below.
Sermon Audio
Summary
A theologian of sorts
Do you think of yourself as a theologian? Before you answer that question, perhaps we should define the term. Theology can be defined broadly as the study of God. So a theologian is a person who takes particular interest in learning about God. It is both an academic discipline and it is also a personal endeavor. You don't need to go to a divinity School to think about or learn about God. Instead, thoughts about God or ideas about God are woven into our worldview. We are all theologians of sorts because we all think about God a certain way.
Thinking right
The invitation in II Peter is to think right about God. And to recognize ideas that contradict the true nature of God. These churches were full of phony preachers preaching a message that had a loose affiliation with some Christian principles and ideas. So they liked the idea of "freedom" but they were enslaved. And they liked the idea of God creating the world but they tried to keep God "back there." They were a mash up of the Christian gospel, cultural norms, their own experiences and modern philosophy.   This mashed up theology caused allot of problems for them and for the believers in these churches.
The letter is meant to cut through the fog, to lift up the lamp shining in a dark place. This is what the Holy Word does: it cuts through the clutter and the fog to bring clarity, order and light. And how desperately we need all of those things.
Be diligent
Peter's wrap up of the letter is an exhortation, an encouragement to keep growing. Yes, you have these pretty poor influences all around you but don't be duped, defeated or downtrodden. Be diligent. Verse 14, "….beloved, since you are waiting for these, be diligent to be found by him without spot or blemish, and at peace." The "these" are the new heavens and the new earth, the return of Christ. In waiting for these things to happen, be diligent, make yourself ready for these things to happen. Live lives of holiness and godliness, Peter said last week. Think of the future return of Jesus as fuel for a faithful life of service right now.
Found by Him
Here he adds to the summons to live lives of holiness and godliness with "be diligent to be found by him without spot or blemish…." This is the language of reckoning. This is Jesus returning to judge the living and the dead. When He finds us, we are to be found without a few things: without spot or blemish. Now, before this gets broken down a bit, we gotta notice something here. One evangelistic tool that is often used is to ask the question, "if you were to die today would you be ready to see God? Do you feel that you are properly prepared to meet your Maker, the Creator?"
There is nothing wrong with that question. However, that is not the context here. Here Peter wants to make sure that believers are ready to meet God. Believers are to get themselves fit for that meeting. And this is a daily preparation. Am I ready to be found today, to meet Christ today?
Without spot or blemish
The instruction here is to be found by Him without spot or blemish. Before you think flawless and impeccable in character, let's think about what this means. The Lamb Himself, the Christ is without spot or blemish from within and without I (I Peter 1:19). There is no sin in Him. That is not what Peter is telling the church to be. The other way to think about spot or blemish is to be unstained, unspoiled by the world. James 1:27, "religion that is pure and undefiled is to….keep oneself unstained from the world." Or I John 5:21, "little children, keep yourselves from idols."
These are exhortations to live differently than people who don't love Christ. That is the idea here in Peter. There are spots and blemishes at the church gatherings but the believers are not to be spotted or blemished by them. They are to be holy for God is holy.
Called to be holy
In fact, they have been called to be holy. We have been called to be holy. I Peter 1:15, says, "As He who called you is holy, be holy in all your conduct." The word not to overlook is the word called. God has called us to a life of godliness, a life unstained by the world. God's calling is also his equipping. So He equips us to live the kind of life He has called us to live. Ephesians 1:4 gets at the same thing, "He chose us in Him before the foundation of the world, that we should be holy and blameless before Him."
The connection
So I think here is the connection between being unstained by the world and being holy as He is holy. Our aim is to please God and be like Him. That is our goal. In doing that, we recognize and avoid the stains, the defilements of the world. We keep ourselves from idols by keeping Christ always before us. We resist the blemishes and spots through prayer and renewal of the mind. We do not conform to the world. Instead, we are transformed. To this we have been called.
At peace
Another quality to experience in waiting for Jesus' return is to be at peace. Peace is not necessarily tranquility or calm outside of us. It is the absence of inner turmoil and unrest. It is the knowledge that God is for you not against you: there is nothing to fear from the past, present or future. You are safe in His arms. Romans 5:1, "Therefore since we have been justified by faith, we have peace with God." And that leads to peace with other people and peace with the thought of Jesus' return.
Fixed reality
This peace is not always felt. Sometimes it is. (But maybe not as much as we like.) Peace is a fixed reality.  It is something we have, not necessarily something we feel. But I think if we begin with the facts and move toward the feeling, those feelings will be informed by the facts. You have peace with God. Live like you do. Jesus is our peace as a church. He unifies us. Let's live like that is true. You have a very peaceful future with Christ in glory. Live like that is true. We are not grasping for peace as an unattainable thing. We are accepting it as part of the salvation package.
Bringing in Paul
Along with waiting and being diligent and being at peace, Peter reminds us again to think right about the patience of the Lord: to count it as salvation. And the way he bolsters that message is by drawing from the letters of his fellow apostle Paul. "…..Paul also wrote to you according to the wisdom given him as he does in all his letters when he speaks in them of these matters. There are some things in them that are hard to understand, which the ignorant and unstable twist to their own destruction, as they do the other Scriptures." This is a really great window into the world of the early church.   There was one unifying message that the apostles taught and preached. It was Christ and Him crucified.
Appointed as apostles
There were no self-made apostles. God saved and appointed these men for their apostleship. And they passed on to the churches what they had received from Christ.   Paul had been given wisdom.   He himself had experienced God's patience for him personally. "But I received mercy for this reason, that in me, as the foremost, Jesus Christ might display his perfect patience as an example to those who were to believe in him for eternal life." – I Timothy 1:16. And along with the experience of God's patience, Paul was given revelation from God that was recognized as Scripture.
The message passed down
So the message that we get when we open the Scriptures is also the message that these men received and believed. Peter is telling the church that what he is telling them agrees with what Paul has also told them. And this is one of the fantastic realities of being in Christian community. We are all following the same message, the same Word, the same Lord of the Word. When you are saved, you are brought into a community of redeemed people that stretches across the globe, back into history and forward into the future. So instead of following a fad, we are grounded in a faith.
Submitted to the Word
These biblical writers were submitted to Word of the Lord and the Lord of the Word. Their unity was Christ-centered and that is seen pretty clearly in Galatians 2. Peter had been acting hypocritically, preaching that Jews and Gentiles are one in Christ but then retreating from the Gentiles when the Jews were around. And Paul called him out on it. He "opposed him to his face because he stood condemned." Fast-forward many years and here Peter is affirming our beloved brother Paul. There are no hard feelings, no "I'm gonna get back at you" type stuff. Why is that? Because Christ is the One we want to please. Christ is our unity. His Word is the standard for all things. Even the biblical writers were submitted to the Word and the church was to be encouraged in the unified message of Scripture: Christ will come again.
Twisting Scripture
The opponents in the churches did not accept the teachings of Peter or Paul. Instead they twisted the Scriptures "to their own destruction." Peter calls them ignorant and unstable.  It is very much okay to not know allot about Scripture and then to grow in knowledge of Scripture. It is not such a good thing to be ignorant of Scripture but to then be quite confident and even arrogant about one's knowledge of Scripture. Sometimes it is better to know what you don't know then to not know what you think you know. The opponents were ignorant and unstable. So instead of learning the Word, they twisted the Word. They snatched certain words and phrases out of letters to make a point.
The Word twister
The biggest example of an individual twisting the Word is the devil. The devil did this right away in the Garden of Eden. Adam and Eve had been given the garden of yeses with one life-giving no, that "no" that would maintain their joy in not trying to be God. The command was to not eat of a certain tree in the garden. The Devil comes to them and adds a prohibition that God does not give. Did God really say, "you can't eat of any tree in the garden?" No, He did not say that. And that carefully thought out "twist" of the Word opened the door to death.
Jesus in the wilderness
Satan tries the same thing on Jesus in the wilderness. He tempts Jesus to mis-interpret the Holy Scriptures. Jump off this high building and the angels will protect you. Turn this stone to bread. Worship me and I will give you authority. Jesus' response is simple: "Be gone Satan. For it is written, "You shall worship the Lord your God and him only shall you serve".' "You shall not put the Lord God to the test."
In other words, this is not a theological discussion, devil. You are wrong even if you are using the Holy Word to make yourself look right.
The twisting of Scripture happens when people use Scripture to validate their own opinions. They have their mind made up and they have found the Bible passage to prove it.
Being shaped by the Word
Here is the way to avoid doing this. Instead of twisting the Word allow the word to shape you. Don't try to get the Word under your thumb. Come underneath its authority. Submit to the Word of the Lord and the Lord of the Word. "You therefore, beloved, knowing this beforehand, take care that you are not carried away with the error of lawless people and lose your own stability. But grow in the grace and knowledge of our Lord and Savior Jesus Christ. To him be the glory both now and to the day of eternity. Amen." This is the alternative to drifting and being carried away and twisting Scripture. Stay on course. Continue to grow, not drift or stagnate.
How do we grow?
How do we do this? How do we grow in the grace and knowledge of our Lord and Savior Jesus Christ?   I will go through 5 ways: 1) Stay connected to Christian Community. Fellowship is not a duty. It is a privilege. Christ bought the church with His blood and we get to benefit from His work. This is a family and you know that family is not something you can take or leave.
Jesus' family
Jesus makes a mind-shifting statement about Who His family is in Mark 3:31-34, "And his mother and his brothers came, and standing outside they sent to him and called him. 32 And a crowd was sitting around him, and they said to him, "Your mother and your brothers are outside, seeking you." 33 And he answered them, "Who are my mother and my brothers?" 34 And looking about at those who sat around him, he said, "Here are my mother and my brothers! 35 For whoever does the will of God, he is my brother and sister and mother."
In other words, the family He is starting is not based on bloodlines. It is based on rebirth. When a person is born again, he or she is born into the family of God. Within that family, we are cared for, we are taught, we are protected, we are served. So we are to see the church family as a gift, a blessing, a necessity. We grow in grace and knowledge and we grow together.
Absorbing the Scriptures
Another way to grow is this 2) Absorb the Scriptures through personal reading and being taught the Word. The believers in these churches could not retreat to personal reading and study. They gathered together to hear these letters read and then explained through pastors and teachers. This is what we are to do as well. If we can get ourselves underneath the Word, good things will happen.
We also have the advantage of owning our own Bibles. So we are invited daily to open the Scriptures and read them in our homes, to ourselves, to each other, to our kids. The broad heading for this is: Let the Word of Christ dwell in you richly. By doing this, we will grow in the grace and knowledge of the Lord Jesus Christ.
Maintaining friendships
A 3rd way is to maintain friendships with other believers who know you and are willing to listen and pray for you. Jesus had his 70 followers, his 12 disciples and then the 3 disciples Who He appeared to be closest to. He even had the apostle whom He loved (the beloved John). It is not that Jesus played favorites with people. However, there are degrees of closeness in all relationships. You can't have 38 really good friends. You may only have 10 really good friends or 6 really good friends or maybe just 1 really good friend. The point is: gain or maintain friendships with people whom you can be honest and genuine with. That will help you grow.
Lean on the grace of God
A 4th way is to regularly lean on the grace of God in your life. Spiritual growth does not happen without a constant outpouring of God's grace on our lives. Peter does not say, "grow in obedient law keeping" or "grow in your resolve to be more disciplined in your spiritual habits." He says, "grow in grace." Sometimes when we think of spiritual growth, we immediately think, "me," "I," "Myself." I gotta get better and improve and finally here is my time to shine. That is not what spiritual growth is.
Spiritual growth
Spiritual growth comes from relying fully on the grace of God, abiding in Christ and walking by the Spirit. Grace trains us and changes us (Titus 3). Our attachment to Christ is what enables us to do anything for apart from Him we can do nothing (John 15). And walking by the Spirit will produce in us the fruit of the Spirit (or the fruit that comes from Him) (Galatians 5). This is why the New Testament writers were so adamant about people getting the gospel right. The grace of God is not just the source of our salvation. It is also the source of all good works that follow.
The Spirit
Paul had some pretty strong words for the churches of Galatia who had stalled out in their growth. He says in chapter 3:1, "O foolish Galatians! Who has bewitched you? It was before your eyes that Jesus Christ was publicly portrayed as crucified. 2 Let me ask you only this: Did you receive the Spirit by works of the law or by hearing with faith? 3 Are you so foolish? Having begun by the Spirit, are you now being perfected by the flesh?" I am not sure if the word bewitched would fit any of us in this room, maybe. Maybe not. Either way, growth does not happen apart from the work of the Spirit. He is not Someone we move on from. He is Someone Who moves us on.
The Glory of God
And the 5th and final way to grow in the grace and knowledge of the Lord Jesus Christ is to make the aim of your life the glory of God. Peter wraps up the letter with that prayer, "To him be the glory both now and to the day of eternity. Amen." Let's start with what this does not mean. It does not mean that you see yourself as simply a means to Christ getting glory and that your particular happiness or joy in life is inconsequential. When the shepherds returned from seeing the baby Jesus in Luke 2, they returned glorifying and praising God. And when the paralytic was healed in Luke 5, he picked up his mat and went home, glorifying God. And when the blind man in Luke 18, received his sight, He followed Jesus, glorifying God.   When Christ visits people, people are changed and Christ is glorified. Both things happen.
Lifting up His Name
So then, I think making the aim of your life the glory of God is to promote Him, to lift up His Name, to tell of His goodness, to preach Him with your words and with your life, to tell the world how great He is, what He has done for you. It is wanting Christ to be glorified by doing what He has done already in you and me. That is not a waste of time or an empty, hollow goal. It the reason we were created and the reason we have been brought into God's family: so that we may declare the excellencies of Him Who called us out of darkness into His glorious light. Let's pray.
---