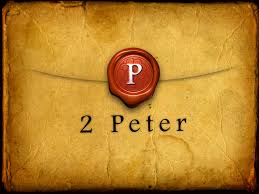 Download or stream the audio with the link below.
Sermon Audio
Summary
Real or phony
Is the gospel message real, true, authentic or is it just bunch of made up stories? And if you believe in the gospel of the Lord Jesus Christ, how closely does your life align with it? Is it just information that you have accepted as true or are you experiencing the gospel through a continually transformed life? These are some of the questions we will be looking at today.
We need a Savior
The gospel message states clearly that we need a Savior, we have a Savior and we are to follow that Savior at all times and in all circumstances. We are not leaderless. We are loved and shepherded and led by King Jesus through a world filled with phony leaders, fake shepherds and false identities that take us around in circles instead of on toward joy and purpose in life. We have Christ as Leader and that is good news.
What Peter is speaking into
Peter's letter is speaking into a situation in the church that was confusing, unclear and complicated. There were people in the church who did not love Jesus, did not know Jesus, did not submit to King Jesus and tried to get others to follow them in their Christ-less existence.   Peter, knowing that Christ is the essence of all that is good, clear, life-giving, hope producing and eternally satisfying did not like the influence of these phony shepherds. So he wrote this letter to breathe gospel air into a church that was forgetting its identity.   It was a church within a dim, dark culture that was being so badly influenced that even the light of Jesus was being pushed out.
The light of the world
Peter heard Jesus say that believers are the light of the world, the salt of the earth. Where will people go if even the church has no light, no salt, not vitality and hope? The answer is nowhere. So Peter is putting the stake in the ground.   Church, do not get duped. Do not get distracted. Do not get cluttered. Keep your eyes on the Lord Jesus Christ and persevere in the true faith.
Denying Jesus' return
One of the things that these Christ-less opponents brought into the church was the denial of the return of Jesus. In their minds, Christ had come, sure, but He was gone now and He will never return again. So why think about Him or love Him or serve Him or worship Him? He is now an afterthought, a segment of history that we have now moved on from. Do what you want. Act how you want. Be your own leader and shepherd yourself to the good life.
A contradiction
This is of course a direct contradiction to Jesus' own statement that He would be with us always, that we will receive power to be His witnesses, that He will build His church and that He will come again.   Jesus has left the tomb but He has not left the earth. His Spirit is with us. He is the Head of the church and there is no other.
In these 6 verses, Peter is making the case that Jesus is indeed the ruling reigning King of the universe. And He will indeed return to judge the living and the dead and present His bride as radiant before the Father. He may be out of sight, but He is not out of mind.
Authenticating the message
There are 2 ways Peter uses to confirm the authenticity of the gospel message. One is the story of His own experience seeing the glory of the Christ. And the other is the prophecy laid out in the Old Testament regarding Christ's coming and His return. So let's start with the first one. Verse 16, "For we did not follow cleverly devised myths when we made known to you the power and coming of our Lord Jesus Christ, but we were eyewitnesses of his majesty."

One way to dismiss the presence of Jesus in the world and the authenticity of His message is to chalk the whole thing up to a myth, a made up story, a fairy tale. This is what the opponents did in the church. They were not really interested in debating finer points of theology. They were content simply making a blanket statement, categorizing the entirety of the Christian faith, rooted in the Old Testament as a phony, cleverly crafted made up religion.
Un-fairy tale like
Now if you have ever read the Bible you will know quickly that it does not read like a fairytale. It reads like history because it is. When Paul preached, he made sure that he did not add eloquence and highfalutin speech as a way to convince people that the gospel is real. He preached with clarity and punch and no frills so that the cross of Christ would not be emptied of its power.   The Bible is too authentic and raw and real to be a fairytale.
The eyewitnesses
"We," Peter says, "are not following cleverly devised myths. We are following a Person. When we made known to you that Jesus Christ is returning at some point in history with power, we were speaking from personal experience. We were eyewitness of His majesty." Peter is referencing his experience on the mountain along with James and John when he saw Jesus transfigured. The story is recorded in several places in the gospels. At one point in Jesus' ministry He took the 3 disciples and brought them up to a mountain and Jesus was "transfigured before them, and his face shone like the sun, and his clothes became white as light…" 
Changed forever
That experience changed Peter forever. He offered to make 3 tents, one for Jesus, one for Moses and one for Elijah but that was not necessary. Jesus brought them up there to witness something, to see something, not to do anything. And what they saw was the honor and glory from God the Father given to God the Son. "He received honor and glory from God the Father, and the voice was borne to him by the Majestic Glory, "This is my beloved Son, with whom I am well pleased,"
Why tell the story here
Why does Peter reference this story right here and right now? It says allot of things about the Christ.   First of all, the glory of the Christ is veiled through the incarnation or Christ coming as baby, not a radiant King. Jesus came as a baby in the womb, being formed part by part like any other baby is formed in the womb. He was born to a Jewish woman named Mary. He learned to talk, learned to read and write, learned how to communicate with strangers and friends and family, learned basic skills and most likely some of the carpentry that his adopted father Joseph taught him. He was and is fully human.
Fully divine
However, He is also fully and totally divine. He is the God-Man Jesus Christ. Born of woman, yet having no beginning or end. This experience on the mountain did not eliminate Jesus' humanity. It rather revealed or unveiled His deity. This is the Son of God. He has the glory of God Himself because He and the eternal Father are one.
Still approachable
However, this did not make Him unapproachable. Peter making the blunt offer to build tents in the presence of deity and 2 well-known biblical heroes now resurrected points to something incredible. Jesus even in His glory was still approachable. His majesty was the kind of majesty that caused Peter to lean in and not lean out. God's majesty is an invitation to draw closer. It is not the shutting of heaven's door. It is rather heaven opening itself up.
Majestic acts of kindness
This majesty of Jesus given by the Majestic glory demonstrates itself through acts of kindness. The day after the transfiguration, Jesus got right back to ministry and there was this boy who had an unclean spirit. And this unclean spirit would attack this boy and the boy would convulse and foam at the mouth. The boy's father approached Jesus on the day after being transfigured. Jesus does not retreat back to the mountain or consider this situation to be beneath Him. Instead, as the boy was coming toward Him, Jesus rebuked the unclean spirit, healed the boy and gave him back to his father. And "all were astonished at the majesty of God."
Same majesty
This is the same word used by Peter to describe the transfiguration of the Christ the day before. Majesty is not far out, irrelevant glory. It is demonstrated in part through Christ coming to broken, fallen people who can't help themselves and healing us from the inside out. This would make an impression on the way Peter thought about ministry. If no person was beneath the majesty of the Christ or to insignificant for Him to notice, then no one is beneath our noticing of him or her either.
Jesus, being full of honor and glory, did not thumb his nose at people but rather loved them. We are to do the same. Peter saw the humility and glory of the Christ and it pushed him to love and feed people, not look down on people.
Majesty and pain
The transfiguration also tells us that Jesus' majesty, honor, glory and even approval of the Father did not keep Him from pain but rather drove Him to self-denying love. The Father identifies Jesus as "my beloved Son with Whom I am well pleased." This is the Father giving honor to the Son. The Father is beaming with approval at His son's total submission to His will motivated by love, not duty. The Father and Son enjoyed an eternal relationship of love, honor and glory. They were and are one.
Pushed by love into pain
However, the ministry of Jesus pushed that eternal relationship of love into what could be called new territory. Now Jesus' love and submission to the Father will be tested and proven through His own death on the cross. And when Jesus then rises from the dead, Peter's understanding of love will go full circle. Love did not keep Jesus from death. It led Him and brought Him through it. God's favor on us and love toward us will not keep us from trouble and even death. It will lead us through it to glory.
The return
The third thing the transfiguration points to is the future return of the Lord Jesus. That experience on the mountain was somewhat of a preview of the return of the King. It was so real, so powerful, so impacting that Peter's memory of this fueled his faith that Jesus would come again looking like He did there on the mountain. That was Christ in His true form. And yes, Christ on the cross was His true form as well. But the death of Jesus was a temporary event in human history. The rule and reign of Jesus is an ongoing reality.   Christ will return in unveiled glory and we will see Him as He is.
A display of power
Peter is drawing from this experience to help fortify the believers' confidence in the gospel message. "What I saw on the mountain was not a myth or a cool show. It was a display of power and we have not seen the last of it." We here in this room were not there on the mountain to see this spectacular event. But we are eyewitnesses of God's work in the world and in our own lives.
A myth?
If you are a Christian, you have had experiences, some easier to recall than others, with the living Christ, His Word and His majesty. Was it a myth, a fairy tale? Is the church a man-made entity, a group of wishful thinkers, hoping we are right? Or is there real power in the words of Christ, the presence of Christ and the experience of life together as God's people? We are not to overemphasize personal experience but we are not to ignore it either. As the psalmist says in Psalm 77:11, "I will remember the deeds of the Lord; yes, I will remember your wonders of old. I will ponder all your work, and meditate on your mighty deeds. Your way, O God, is holy. What god is great like our God?" and Psalm 126:3, "The Lord has done great things for us; we are glad."
The prophetic Word
There is another way Peter wants to diminish the influences of the Christ-less opponents and fortify the believers' confidence in the gospel. He draws from the authenticity of the prophetic words, the prophecies of old that never get old. Not only does Peter and the other legitimate church leaders have eyewitness testimony but they also have the prophetic word more fully confirmed. This prophetic word is the message told many years back of the coming of the Christ.
Some of those words
And there are many prophetic words that pointed to Jesus. One is Psalm 2:7-8, "I will tell of the decree: The Lord said to me, "You are my Son; today I have begotten you. 8  Ask of me, and I will make the nations your heritage, and the ends of the earth your possession." And Isaiah 42:1, "Behold my servant, whom I uphold, my chosen, in whom my soul delights; I have put my Spirit upon him; he will bring forth justice to the nations." Peter had both of these words confirmed to him at the transfiguration. The Father calls Jesus "my beloved Son" and my "chosen One." Peter's experience confirmed the prophecies of Jesus coming.
He would die
What Peter did not know at the time of the transfiguration was that Isaiah 42 would lead to Isaiah 53. This beloved chosen One would be crushed for our sins and bruised for iniquities and the Father who loves the Son would pour out His wrath on the Son as He became the Substitute for us. The Lord became the Lamb. The King became the condemned. The perfect became the punished. And Peter had all of these realities flooding his mind and heart.
And he is trying to convince the church: All that has been predicted has been confirmed and experienced. Don't get distracted by these people who do not love you and did not die for you and do not care about you. You would do well (it would be good for you) to pay attention to these things and keep the Word before you as a lamp shining in a dark place.
Word and world
This imagery of the Word and the world is pretty fascinating. Peter calls the world, perhaps specifically the Christ-less culture into which the church was birthed, a dark, dungy place with no internal source of light. What burns bright in the dungy world is the prophetic word, the eternal words of God recorded in the Holy Scriptures. The Word is a lamp unto our feet and a light unto our path. It is our Guide that illumines the path in which we are to walk and even run. Without a light, we cannot see where we are going or even where we came from.
It still shines
So notice what Peter is doing here. He is drawing the attention of the believers' to the Word of God, the ancient prophecies. But he is not describing them as relevant back then or necessary for people living back then. He is saying the Word is still a lamp in a dark place, it still guides our hearts and minds, it still illumines our path. It is of course, the living and breathing Word of God. Pay attention to it, now. Because you still need it now.
The alternative
The alternative to this is to be guided by phony lamps and fake lights. For these churches it was the Christ-less opponents. For us it may be the bigger house or smaller, tiny house. Or it may be increasing affirmation from your employer or any number of things. We are all on a path. We are all motivated by something. We are all moving toward something. According to the eyewitness account of Peter and according to the prophecies of the Old Testament, the only worthwhile, light filled and joy-producing path is the path laid out for us by King Jesus in the 66 wonderful books of the Bible.
The day dawning
We are to follow this lamp. (which does not imply an enormous flood light but rather enough light to get us through the day.) And we are to follow it until "the day dawns and the morning star rises in our hearts." Whatever that fully means, I am quite excited for it. The day dawning points to the day of Jesus return. That will be a morning like no other. There will be a final night and a final morning, a final collective breath of all that is living. That will be the day that Jesus returns in glory and honor and majesty to bring the church home and judge those who never believed.
Morning star
Along with the dawning of that day, the morning star will also rise in our hearts. Now what does that mean? Paul tells us in II Corinthians 4:6, "For God, who said, "Let light shine out of darkness," has shone in our hearts to give the light of the knowledge of the glory of God in the face of Jesus Christ." So this morning star rising in our hearts is probably, according to the theologian Caulley the full vision of Jesus, the full light of Jesus of which we do not see it all right now. Peter is pointing to the end of all darkness and all partial light and the experience of fullness of light.
Age of completion
Paul gets at kind of the same thing at the end of the love chapter in I Corinthians 13.
"Love never ends. As for prophecies, they will pass away; as for tongues, they will cease; as for knowledge, it will pass away. 9 For we know in part and we prophesy in part, 10 but when the perfect comes, the partial will pass away." The dawning of the day will usher in the age of completion.
There will be no more need for a lamp. We will have the light of Christ illuminating the temple. We will have no more need for prophecy because all will have been completed. We will no longer need the Word as our Guide. We will have the Word in the flesh, Christ Himself.   And until that day, Jesus has given us His Spirit, His Word and His people to guide us through the dark place onto the place of full light.
Not man's interpretation
This prophecy of Scripture that we are to pay attention to, did not come about by man's interpretation. This was not the product of eating too much pizza and having some weird dreams. "No prophecy was ever produced by the will of man, but men spoke from God as they were carried along by the Holy Spirit." This is not far off from Paul saying, that the message he preached was "not man's gospel." The Holy Scriptures are not derived from within the mind of man but from within the mind of God. It is His gospel. These are His prophecies. This is His plan to redeem His world. This is not a cleverly crafted story that you can take or leave. This is the truth of God.
2 options
And at some point, we are either so convinced of its authenticity that we begin to build our life on it and live according to it or we dismiss it as a fairytale. If we do the second option, we will begin to build our life on something else. And then the winds will blow and the Christ-less voices in your life will get louder and louder and the lamp will grow dim. "Don't let it grow dim," Peter says. "Pay attention to it. Build your life on it."
False prophets
There were false prophets throughout the Old Testament who would represent God and then speak things that God did not tell them to say and would never say. So Jeremiah 14 warns that these prophets would speak out of the deceit of their own minds. They would string some things together, maybe a bit of the truth, and a bit of the culture and bit of personal experience and a bit of the pizza induced vision and some of the teachings of various religions and then they would say, "thus says the Lord." These were lying prophets. Deuteronomy 18:20 says that people who did this were to be put to death.
Modern day
Peter will go on to warn the churches that false prophets or teachers still exist today and that they will arise among you. So he is saying, "The Holy Scriptures have always been threatened by the presence of false teachers or prophets who are trying to mis-represent God. Do not be duped and do not follow them. Know Christ. Know the Scriptures and be strong."
What about now?
Now there are probably not allot of "false teachers" in your life right now, lying prophets who are coming to you with "a word from the Lord" that directly contradicts the Word of the Lord. Maybe you get some of that but most of us don't. What you probably get are little fireflies. Little ideas pop up that look bright and look good and that seem to shine. So you follow the little light and then by the time you get to it, the light is gone. Or you hold it in your hand and it lights up again and it just isn't as bright as you thought it was and need it to be. So you move on to the next one. And after awhile you begin to realize that these little lights are not leading you anywhere except in circles.
Invited
What Peter is inviting us to do is to leave the hamster wheel, leave the maze to nowhere, get out of the forest of fireflies and have our minds led and illuminated by the true, authentic, verified Word of God that never takes us in circles but leads us to glory. He is inviting us to follow Jesus. And by his Spirit in us, that is now entirely possible. Psalm 119:130 "The unfolding of your words gives light; it imparts understanding to the simple."  So let's unfold His Words together that we might walk in His light now and always. Let's pray.
---