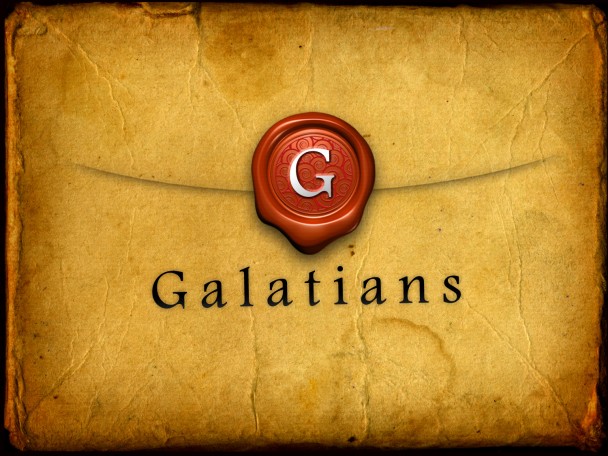 Download or stream the audio with the link below.
Sermon Audio
Summary
At this point in Galatians, the gloves are off. Paul has made his argument for his apostleship. He has proven that he is not a man pleaser and that nothing and no one should stand in the way of the gospel.  He has taken on Peter. He has taken on those of the circumcision party.  Now, he is turning his attention to the Galatians themselves. No one is safe with Paul. No one is off the hook. Paul has one standard: the gospel. All people, all situations are put up against the criteria of Christ. There is loyalty to one Person: the Christ, the Messiah. Does that sound familiar? You may remember a Person named Jesus who also was not a man pleaser but a God pleaser. And that got him killed. Perhaps you will not be surprised to find that this type of behavior gets Paul killed as well……But not yet. Paul ain't dead yet. He still has some work today and so do we so let's get going.
Not your cute 60's show (vs. 1)
Verse 1 says that the Galatians had been bewitched, not deceived, not duped but rather bewitched. Bewitching has a range of meaning but it typically isn't good. It basically means to cast a spell on someone, or to enchant them. So Paul is dealing with a spell here. How do you undo a spell?  I looked this up on google and there was allot of information about strings, candles and beads. But how does Paul deal with a spell? He teaches. A good lecture will cure just about anything.
Publicly portrayed as crucified
What made this all the worse was that the Galatian church had seen Christ crucified. Presumably some of them had actually been at the crucifixion or had known someone who had been there. Regardless of whether or not they saw the crucifixion, they knew that it had happened, that Jesus had been crucified.  Yet they were now acting as though He had not been crucified. They were returning to works of the law.
Paul asks his question
So being the good teacher Paul was, he asks several rhetorical questions to get his point across and to get the discussion started. Verse 2 says, "Let me only ask you this, did you receive the Spirit by works of the law or by hearing with faith?"  What is meant by this? Paul sets up two options for how a person is saved. "Works of the Law or hearing with faith." We know that the Spirit is given by God and cannot be earned. The Spirit is not Someone you can work to acquire. He is a gift (Acts 10:45; 2:38).  Salvation is a gift.  Obviously it is more than that but it is not less than that.  So the answer to the question seems obvious. We received the Spirit by hearing with faith. Of course. That seems like a no-brainer. Everyone knows that salvation is all about faith and grace and not works right?  Apparently not.  And many people today are still baffled by the idea that salvation costs you nothing. Of course, it may cost you everything to follow Christ but it will cost you nothing to be saved. There is no price tag on salvation. There are no black Friday deals. There is no half off coupon or Tuesday specials.
Works of the law
So, what are these works of the law Paul is writing of? In this book, it is mainly circumcision but in general it is law based righteousness or doing things in the law in order to be made (or continue being) righteous.  Works of the law became an enemy of the cross of Christ. Did you hear that? An enemy. Because, the phrase was never meant to be a part of Jewish or Christian vocabulary.  The law came after salvation, after the Jews were chosen, after God set His affection. The law was a guide for life not a salvation achieving work. So the entire premise is wrong: works of the law should not have existed.  There is no such thing. It is a made up idea.
Hearing with Faith
So what is the alternative to "works of the law?" It is hearing with faith. That's right hearing.  What is meant by that?  A person hears the gospel ors read the gospel, or watches the gospel. That's what hearing means: to arrive at the knowledge of what the gospel is.  But it does not stop there. One has to hear it, read it, see and then have faith. Now how does a person have faith? Why do some seem to have faith and others do not.  Is faith a work? Something a person strives to earn? No it is not a work and it cannot be self-generated. It must be given by God. Faith is a gift in the same way salvation is a gift.  God needs to reveal Himself to us in such a way that we say, "He is real. I am a sinner. I need salvation." Ephesians 2 makes it clear that we are dead in our sins and that God must make us alive. Romans 3 states that no one is righteous:
None is righteous, no, not one;
11 no one understands;
no one seeks for God.
12 All have turned aside; together they have become worthless;
no one does good,
not even one."
So this hearing with faith is not a work of man. It is a work of God, so that no one can boast. No one can say, "I chose God because I am less of a sinner than you are." That would make you in some way better than someone else. It assumes that you were able to exercise just enough self-righteousness to generate within yourself just enough faith to believe in Christ.  If that is the case than who is partly responsible for your salvation? You are. God did 99.9 % of the work but that you just mustered up that last .1% to get you over the hump. If that is true than you will always be able to look back and say, "I provided that last bit of energy to complete my salvation." If that is the case, than you were not saved fully by grace. You had to put in that last bit.  Grace is undeserved, unmerited favor. So there can be no claim for boasting. When you stand before God at the end of your life, you will not say, "we did it." You will say, "You did it. In spite of me. By your grace, you did it."
An objection
I know what some of you are saying, "but the Bible says that faith without works is dead" and that we are to "work out our salvation with fear and trembling." What about our part in this? Surely we have to do something to be saved. Well I am glad you asked. Let's find out.
Go to Phillipians 2:12-13.
Therefore, my beloved, as you have always obeyed, so now, not only as in my presence but much more in my absence, work out your own salvation with fear and trembling,
There we go right? Work out your salvation. That's what it says. But keep reading:
13 for it is God who works in you, both to will and to work for his good pleasure.
So even the working out of our salvation is an act of God. Dead things cannot work out their own salvation. They need something generated within them that gives them the energy or the fuel to work. That is the Holy Spirit. Cars need engines. Engines need fuel. God provides a person with both.
The meaning of faith in James
Well how about the James passage. James, the brother of Jesus says,
What good is it, my brothers, if someone says he has faith but does not have works? Can that faith save him? 15 If a brother or sister is poorly clothed and lacking in daily food, 16 and one of you says to them, "Go in peace, be warmed and filled," without giving them the things needed for the body, what good is that? 17 So also faith by itself, if it does not have works, is dead.
Notice a few things about this text: This is a hypothetical situation where someone is claiming to have faith. It does not say that he actually does have faith. He is saying he has faith. Can that faith save him? Can someone be saved by simply saying, "I have faith?" No. If someone simply says that they have faith but that have no evidence of Christ working in them and if there are no good works to show for it, then that person probably does not have genuine faith. They are only claiming to have faith.  That is what James is writing about here. Fake Christians who claim to have faith but do not evidence the fruit of the Spirit.
What James is not saying is that someone who has genuine faith must do works in order to be saved fully.  He is saying that true faith results in good works.  In other words, good works will follow genuine faith. If you have been grafted in with Christ, you will bear fruit. The Holy Spirit will work in you both to will and to work for His good pleasure.
Hearing with Faith revisited
So that is what is meant by hearing with faith.  This is a work of God, graciously offering you the opportunity to hear the gospel, whether from your parents, from your church or from a gospel tract.   And then giving you faith to believe it, making you alive with Christ, giving you the Holy Spirit.
Then what of free will?
Free will is one of those extra-biblical phrases that man uses to make sense of a fairly complex concept. What is meant by free-will? Most people think free will means that human beings are free to do whatever they want. They can either accept Christ or they can reject Christ. They can choose to eat a scone or eat a doughnut. They can either watch the news on NBC or CBS. At one level, we are free to choose. But in terms of salvation, free will sets up a false dichotomy.  Free will falsely labels people as neutral before God, capable of choosing good and evil. But biblically this is simply not true.
We have already identified that all people are under sin or bound by sin, that no one seeks for God, that our sin nature keeps us from fellowshipping with God.   In this way, all people are born the same. There are not some who have a greater disposition for God, then others. All have sinned and fall short of the glory of God and have a bent toward sin, bound by their own desires that war against God.
That is not to say that there are not degrees of sinfulness and evil. Surely there are degrees. But this does not change that all our bound by sin.
So in some ways, human beings are free to choose what they want. But because of their inclination toward sin, they will choose to sin.  So what needs to happen is God needs to break through into a heart, create faith, show Himself as beautiful and desirable and give salvation.
This is the only way to guard from self-righteousness.  If you can look back and say, there was a moment in time where I activated my own righteousness and made that final step, that God met me halfway and then I went the rest of the way….. If you say that, then you have reason to boast. And that is religion. But if you say, "yes, God met me halfway, but then he put something in me that compelled in such a way that I had to come to Him and that not to come to him would be folly and suicide. He changed my will from desiring sin and rejection of Christ, to desiring Christ and seeing His work as beautiful and true." Then you have a right understanding of salvation and can truly give glory to Christ alone for your salvation.
Look at I Corinthians 1
For consider your calling, brothers: not many of you were wise according to worldly standards, not many were powerful, not many were of noble birth. 27 But God chose what is foolish in the world to shame the wise; God chose what is weak in the world to shame the strong; 28 God chose what is low and despised in the world, even things that are not, to bring to nothing things that are, 29 so that no human being might boast in the presence of God. 30 And because of him you are in Christ Jesus, who became to us wisdom from God, righteousness and sanctification and redemption, 31 so that, as it is written, "Let the one who boasts, boast in the Lord."
No one is better than the other
So, then when you witness, you are not saying that you are better than someone else. Instead you are saying that I was and am sinner following the course of this world, under the wrath of God. But God made me alive with Christ. Christ did something outside of myself. God accomplished my salvation from start to finish.
There is no first, second, third place trophies. You will not stand on the second place tier with Christ on the first. You will not be on their tier at all. You will be the one Christ holds in His hand to say, "look what we have accomplished. We took what was dead and made it alive. We took what was dark and made it light. We took what was cursed and made it blessed of God."
Fuel of the gospel: Hearing, Faith, Spirit
So then the fuel of the gospel is: hearing, faith and the Holy Spirit.
It is not works of the law. Works of the law do not get you saved on they do not keep you saved.  Look at verse 3, "Having begun by the Spirit, are you now being perfected by the flesh? Did you suffer so many things in vain – if indeed it was in vain." This is a warning. If you do not understand salvation as the gift of hearing with faith then you could be living your so-called Christian life in vain.  If you are depending on the works of the law to save you or to keep you saved, then you could be building castles in the sand.  That's what Jesus says in Matthew 7
Not everyone who says to me, 'Lord, Lord,' will enter the kingdom of heaven, but the one who does the will of my Father who is in heaven. 22 On that day many will say to me, 'Lord, Lord, did we not prophesy in your name, and cast out demons in your name, and do many mighty works in your name?' 23 And then will I declare to them, 'I never knew you; depart from me, you workers of lawlessness.'
So many will say, Lord, Lord and maybe even do many good things. But in the end, it is only those who do the will of the Father who will be saved. And what is the will of the Father? According to John 6:40, "That everyone who looks on the Son and believes in Him shall be saved."  There is the will of the Father, look on the Son, have faith in the Son, be saved, be sanctified
Why this is important
Why does it matter than we understand our own salvation? Why not just get saved and go to work? Because this is not a religion. We are not God's little foot soldiers. We did not choose Him. He chose us not for our glory but for His.  We are His possession, redeemed for His own pleasure.  Our salvation is not about us. It is about Him. He is the beginning, middle and end of our salvation. It is His great work that He is doing.  And the Spirit is the fuel that keeps us going in this life.
All of our plans as a church will not be sustainable if we are not being fueled by a proper understanding of our own salvation and purpose in life. We exist for the glory of God, we live and move and have our being in Him, we are fueled by the Holy Spirit. We do not want to be like fireworks that break into brilliant colors and then disappear into the night sky.  We want to be like stars, that shine and shine and shine and shine and shine and shine. We want to be "like a tree planted by streams of water that yields its fruit in its season and whose leaf does not wither." (Psalm 1:3)
We want to be fueled by none other than God Himself- God alone. That is my hope for my life. That is my hope for this church. Christ. He is our hope. Christ. He is our life.
Let's Pray
---
2 Responses to Galatians 3:1-6 "Gospel Fuel: hearing, faith, Spirit"