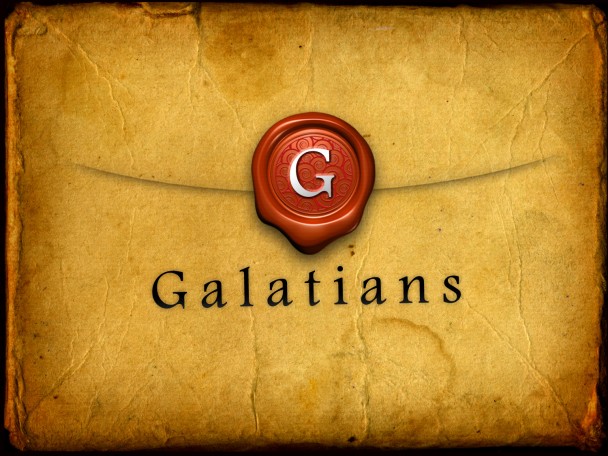 Download or stream the audio with the link below.
Sermon Audio
Summary
Vs 1. "Paul an apostle, not from man or through man but through Jesus Christ." 
Apostles were mainly referred to as the eleven who were with Jesus and saw him in his earthly ministry.  Paul calls himself an apostle as well but as one "untimely born" or the "least of all the apostles."  James, the brothers of Jesus, was also called an apostle after Christ's death and resurrection.
When exactly Paul became an apostle is not entirely clear.  Paul most likely was converted around AD 34 or not long after the ascension of the Christ. It could not have been immediately after Christ's ascension because he says that he persecuted the church. So the church needed some time to develop between the resurrection of Christ and Paul's Damascus road conversion.
Paul's apostleship was constantly under scrutiny and attack.  He did not come from the original eleven but instead came after the church had already developed and formed around the original apostles.  So Paul came in unannounced and many were afraid of him.
Perhaps, the clearest reference to the circumstances surrounding Paul's conversion is Acts 9:10-16. Here Paul is seen as committing evil against the church. He has full authority from the chief priests to bind anyone who calls on the name of Jesus.  The Christians are afraid of him. So, no man could have changed this situation. His apostleship, and ultimately his salvation, came from God.
Apostleship is of divine origin. It came through Jesus Christ and God the Father. Apostleship is a spiritual work. No human has the capacity to be an apostle. It must be of God or it is not true apostleship.  But Paul rigorously defends his ministry not for the sake of himself, but so that the gospel that he preached would be understood as authoritative.
The very gospel is at stake so his defense is ultimately for the sake of the Christ.  So, why does Paul defend his apostleship? Because if they reject him as an apostle, they will also reject the gospel. That seems to be at least one of the reasons Paul uses the name Jesus and Christ so many times.
Paul uses the word Jesus 213 times and Christ 379 times, which far surpasses his fellow apostles.  Paul is probably the most "Christocentric" of all the apostles (partly I think because he had no other boast among the apostles than Christ).
Vs. 2 "and all the brothers who are with me." 
Lest we think that Paul is a one-man show, he includes those colleagues or fellow workers who are united with him in his gospel message and his work as an apostle. Jump over to 2:9. Here Paul depicts the "right hand of fellowship" that signified his inclusion with the original apostles.  Remember Peter's vision in Acts 10. This was a vision for Paul's ministry. There are no more Jewish customs that need to be kept in order to obtain the Jewish faith.  The Gentiles are not the unclean who need to become clean by following Jewish law and customs. God is going to do a work that makes Gentiles clean apart from the law.
So there is the link. While God was drawing Saul or Paul to Himself, he was also revealing to Peter the massive change that had come through Christ's death and resurrection. What Ephesians calls "the wall of hostility" has been torn down.  Gentiles are no longer unclean. (The implications of this are largely what this book is addressing)
May we take a lesson from Paul here? Do we as a church network with our brothers and sisters from other communities to enhance and strengthen our faith? The New Testament churches were networked (modern word) (knit) together, largely through the ministry of Paul and the apostles. These were small, struggling churches needing constant redirecting (as is evidenced in verse 6).  They had enormous threats all around them.
There may be issues that come up in this church that we will need outside help to handle. We are not without need. Our families need other families. Our marriages need other marriages. And our church needs other churches. Pray for the annual GLBC conference being held in New Richmond in a few weeks. Pray that we can link arms with other churches and pastors to grow and strengthen this church.
Vs. 3 "Grace to you and peace from God our Father and the Lord Jesus Christ" 
Grace and peace are common words.  We may use these for various things: "That was very gracious of you to come over and help me rake my yard." Or "I feel at peace about the situation I am in, even though it is difficult." Biblically grace and peace can mean a temporary situation that is not fixed in time. Take for example Ephesians 4:29 "Let no corrupting talk come out of your mouths, but only such as is good for building up, as fits the occasion, that it may give grace to those who hear." Or Colossians 3:15   "And let the peace of Christ rule in your hearts, to which indeed you were called in one body. And be thankful." Or "the peace of God will guard your hearts and minds in Christ Jesus." Both of these are situational and transient or temporary.
But the Bible also speaks of grace and peace in a different way. Grace and peace are not feelings that we get and then lose. Instead they are acts of God, accomplished by God at a certain point.  Grace and peace our activities of God, so when the Bible says "since we have been justified by faith we have peace with God," It is not speaking about a transient temporary feeling. Instead it is talking about a position before God, not a feeling before God. Do you get that? Peace of God (feeling), Peace with God (fixed event happening at the point of being saved, going from an enemy of God to an object of his mercy).
Did you know that a person can look as calm as the surface of the water on a windless day and have within them a torrent of rage and anger, enmity with God, rebellion against God, hatred of God, a bitter enemy of the cross. Don't judge people by their exterior.
In the same way a person may be outwardly troubled, feeling very little or no peace, while having total peace with God.
Some like to stay here longer than is safe for their own soul…..Love and peace and grace that's all God is. Wrong. That is not all God is. God is love and God is just. Therefore grace does not come without wrath being satisfied and peace does not come without enmity being removed.  Sciptures says that we are under the wrath of God, that we are sinners by nature
What then? Are we Jews any better off? No, not at all. For we have already charged that all, both Jews and Greeks, are under sin, 10 as it is written:
"None is righteous, no, not one;
11 no one understands;
no one seeks for God.
12 All have turned aside; together they have become worthless;
no one does good,
not even one."
13 "Their throat is an open grave;
they use their tongues to deceive."
"The venom of asps is under their lips."
14 "Their mouth is full of curses and bitterness."
15 "Their feet are swift to shed blood;
16 in their paths are ruin and misery,
17 and the way of peace they have not known."
18 "There is no fear of God before their eyes."

Romans 1:18 "For the wrath of God is revealed from heaven against all ungodliness and unrighteousness of men, who by their unrighteousness suppress the truth."
Romans 2:8 "But for those who are self-seeking1 and do not obey the truth, but obey unrighteousness, there will be wrath and fury."
Have you ever read Revelation and seen how the wrath of God is described?  Listen to these descriptions of the wrath of God.
Rev. 6
15 Then the kings of the earth and the great ones and the generals and the rich and the powerful, and everyone, slave and free, hid themselves in the caves and among the rocks of the mountains, 16 calling to the mountains and rocks, "Fall on us and hide us from the face of him who is seated on the throne, and from the wrath of the Lamb, 17 for the great day of their wrath has come, and who can stand?"
Have you ever thought of the Lamb of God as wrathful? It gets even worse……
Rev. 9:15
From his mouth comes a sharp sword with which to strike down the nations, and he will rule them with a rod of iron. He will tread the winepress of the fury of the wrath of God the Almighty.
So the Lamb of God has a sharp sword coming out of his mouth. And he is treading the winepress of the fury of the wrath of God.  Imagine a winepress where grapes were ground up until the juices came out of it. Now imagine wrath being put into a winepress and ground up.
So we have a sword (signifying judgment).  And we also have "the fury of the wrath of God." This isn't just wrath. This is furious wrath. What is he going to do with this wrath? He is going to pour it out……
Rev. 16:1
Then I heard a loud voice from the temple telling the seven angels, "Go and pour out on the earth the seven bowls of the wrath of God."
Rev. 16:9
The great city was split into three parts, and the cities of the nations fell, and God remembered Babylon the great, to make her drain the cup of the wine of the fury of his wrath.
How do we escape this? How do we escape such a Holy wrathful God who is not able to tolerate, who must punish sin, who cannot sweep it under the rug of the universe? The measure of God's wrath is the measure of God's holiness. He is wrathful not because He is mean but because He is totally Holy. "Lord if you mark our transgressions who can stand?" What did Isaiah cry out to God when he got a vision of Him? "Holy, Holy, Holy."
The wrath of God is serious business and there is only one way to avoid it. Someone else has to get it instead of you. Grace and peace comes at the price of wrath being satisfied
So how do we get grace and peace? Paul answers that in verse 4:
Vs. 4 "Who gave Himself for our sins to deliver us from the present evil age…."
There is a great conversion that happens in Christ.  At cross, the wrath of God goes into him. The enmity of God against man goes into Him. The punishment for sin goes into him. And what comes out, grace and peace.  Grace and peace does not come out of nowhere.  He doesn't pull it out of a magic hat.  Every sin is paid for. Either He gets the punishment or you get the punishment.  Did you ever think about that? Every sin that has ever been committed or ever will be committed has been or will be paid for.  You either get the full weight of the punishment or he gets the full weight of the punishment.
I think Isaiah knew this well. He knew that nothing in him could save him from God or make him holy and clean.
Isaiah 6:5-6:
What did Isaiah do when he saw the Lord. Let's look at it. "Woe is me! For I am lost; for I am a man of unclean lips, and I dwell in the midst of a people of unclean lips; for my eyes have seen the King, the Lord of hosts!"
6 Then one of the seraphim flew to me, having in his hand a burning coal that he had taken with tongs from the altar. 7 And he touched my mouth and said: "Behold, this has touched your lips; your guilt is taken away, and your sin atoned for.

That is conversion. That is what it means to be a Christian. "Woe is me, for I am lost." He is utterly hopeless and unable to save himself. What can he do standing there awestricken before a totally Holy and Perfect God? Nothing. He can do nothing. Have you ever sat in that for a minute? You're inability to save yourself. Some never do. Some treat salvation as another thing you picked up along the journey of your life. But that is not the case with Isaiah. He is brought to the very depth of his sinfulness and brought to the height of God's glory, crying out "unclean, unclean."
He needs salvation. So what happens? An angel comes and touches his lips and says, "your guilt is taken away and your sin atoned for." What is meant by this? What is he speaking of? He is speaking of Christ. Isaiah 53 – "he was pierced for our transgressions, bruised for our iniquities." Old Testament saints were saved by the sacrifice of Christ. Read the book of Hebrews to discover that for yourself
We get saved from the wrath of God by God Himself.  Peace and grace come through Christ alone.
So what is the point of this? Who gets the glory for this? How did this great salvation come about. It came about according to the will of God for the glory of God.
Vs. 5 "…..according to the will of our God and Father, to whom be glory forever and ever. Amen."
Do you know why I have hope for this church? It's because God does what he does for his own glory. You are saved for his glory. Ephesians 1:6 "he chose us in him before the foundation of the world, that we should be holy and blameless before him. In love 5 he predestined us for adoption as sons through Jesus Christ, according to the purpose of his will, 6 to the praise of his glorious grace, with which he has blessed us in the Beloved.
Now when God does a miraculous work and saves, redeems, makes clean dirty sinful people, what happens as the result of God getting glory? We get really happy. We are the recipients of the work he has done. In glorifying Himself (doing things for his own glory – to the praise of his glorious grace), we receive these great benefits. We are taken from darkness to light, rescued from this evil age, made an object of mercy instead of wrath.
God's grace gives Him glory and we get the grace. So we say "what a glorious and gracious God." We are praising because we are getting grace.
Pray with me.
---